Dr. Everett K Gibson's Presentations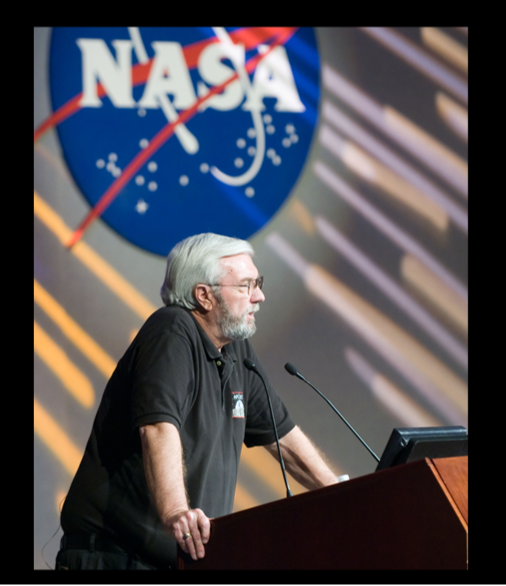 Presentation to the NASA Johnson Space Center employees regarding the "Lunar Sample Heist", 2011.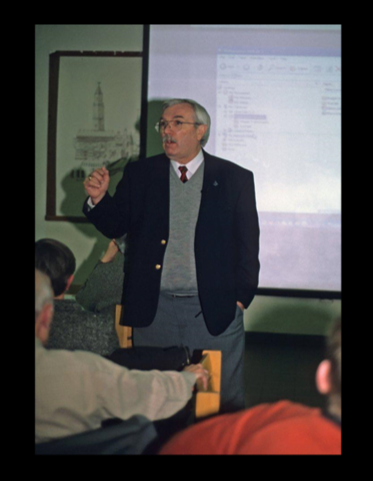 Presentation on "Life on Mars", Antwerp Mineral Club, Belgium, 2004.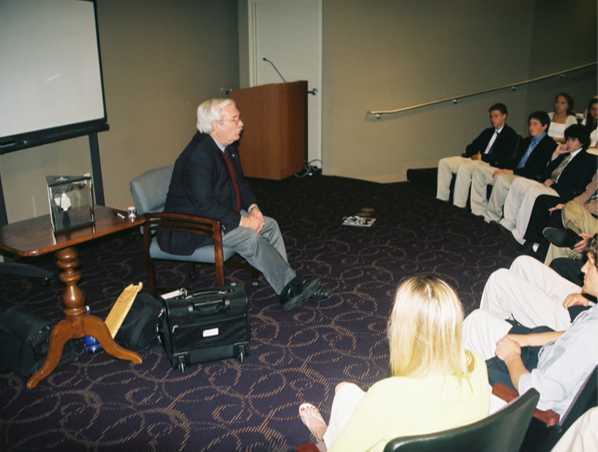 Papadopoulos Fellow Presentation "Search for Life on Mars" to the Kincaid School, Houston, TX, 2006.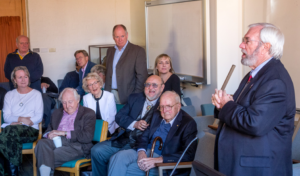 Research School of Earth Sciences Presentation, Australian National University, Canberra, Australia 2015.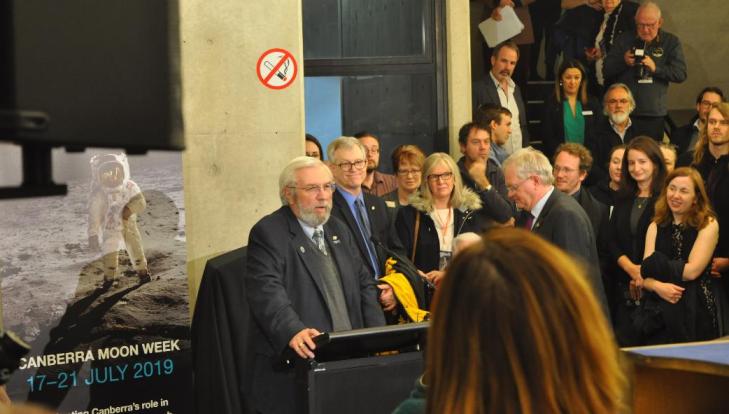 Presentation of NASA/Australian Flags to tracking Tracking Stations in Canberra, Australia 2019 upon the 50th Anniversary of the Apollo 11 Lunar Landing.
Dr. Everett K Gibson's presentations appeal to a wide variety of audiences including corporations,
service groups, educators and of course the general public.
Dr. Everett K Gibson has presentations at major universities and research institutions around the world.
Cambridge University, England (2 times)
University of Oklahoma
University of Chicago
Arizona State University (5 times)
University of Arizona
University of Tulsa
Harvard University
Brigham Young University
New Mexico Institute of Mining and Technology
Colorado School of Mines
Brown University
California Institute of Technology (4 times)
Louisiana State University
University of California, San Diego (2 times)
Laurentain University
University of California, Los Angeles
Lehigh University
Rice University (2 times)
NASA/Ames Research Center (>5 times)
University of Houston (3 times)
NASA/Goddard Space Flight Center
Washington University, St. Louis
Jet Propulsion Laboratory (4 times)
University of Hawaii
University of Maryland
Oklahoma State University
U.S. Geological Survey, Reston
Abilene Christian University (2 times)
The Open University, England (9 times)
University of California, Berkeley
University of South Alabama
McNeese State University
Lamar University (2 times)
University of North Dakota
Penn State University
Gresham College, London
Royal Geographical Society, London (2 times)
Royal Astronomical Soc., London (4 times)
University of Edinburgh, Scotland (2 times)
University of Puerto Rico, San Juan
New York Academy of Sciences
Northern Arizona University
U.S. Geological Survey, Flagstaff
New York Academy of Sciences, NY
Brooklyn Polytechnic University
University of Texas-Dallas
Lyons College, Arkansas
American Assoc. of Petroleum Geologists, Dallas
Museum of Northern Arizona
Lowell Observatory, Flagstaff
Bemidji State University, MN
University of London, Royal Hollaway College
University of Manchester, Manchester, UK
University of Keele, England
PITTCON, New Orleans, LA (2 times)
Gordon Research Conference, Holderness College
University of Colorado, Boulder
PITTCON, Orlando, FL (2 times)
Burke Baker Planetarium, Houston (4 times)
Massachusetts Institute of Technology (2 times)
National Technical Institute for the Deaf (in sign)
European Space Agency, Noordwijk, Holland (6 times)
Rochester Institute of Technology, NY
Planetfest, Pasadena, CA (2 times)
Oxford University, UK
Rensselaer Polytechnic Institute
Natural History Museum, London (2 times)
University of Houston, Clear Lake (4 times)
Texas A&M University, Kingsville
Texas Tech University, Lubbock, TX
Grant Institute, Univ. of Edinburgh
American Astronautical Society, Houston
Carnegie Institution of Washington (2 times)
Australian National University, Canberra, Australia (4 times)
Macquerie University, Sydney, Australia
Vatican's Gregorian Pontifical Univ., Rome, Italy
National Institute Polar Studies, Tokyo, Japan
University of Sydney, Sydney, Australia
Antwerp Mineral Club, Antwerp, Belgium
University of Leicester, Leicester, England
European Geosciences Union, Nice, France
Houston Museum of Natural Science's Excellence in Education
Award Dinner and Fund Raiser Lecturer (Raised $164,000)
Embry-Riddle Aeronautical Univ. Graduation Talk
American Society of Gravitational and Space Biology, NY, NY
Tarleton State University, Stephenville, TX
Baker Institute of Foreign Policy, Rice University, Houston
Houston Engineering Society
High Energy Density Laboratory Astrophysics Natl. Meeting
Kinkaid School, Houston, TX (2 times)
Abilene Christian University, Abilene, TX
Bohemian Grove, Santa Rosa, CA
American Assoc. of Physics Teachers Convention
New South Wales Univ., Sydney, Australia
Texas Aerospace Scholars (> 10 times)
Space Exploration Educators Conf., Houston, TX
University of London, Birkbeck College, London, UK
NSF McMurdo Station, Antarctica
Planetary Sciences and Space Sciences Institute,
High-Speed Computer Forum, Houston, TX
25th Anniv. Invited Speaker, Open Univ., UK
Mars Society Convention, Keynote, Grapevine, TX
Univ. of Greenwich, London, UK
Federal Bureau of Investigation, Houston, TX
Univ. Texas Medical School, Galveston, TX
NASA Co-op, Ethics, NASA-JSC, Houston, TX (6X)
Johnson Space Center Storybook Event, Houston, TX
Texas A&M University, College Station, TX
"Exciting Life as a NASA RockET Scientist".
Houston Astronomical Society, Houston, TX
Tranquility Lodge, Masonic Organization, Galveston, TX
Phillips Academy, Andover, MA
Mars Society, Houston, TX (after dinner speaker)
Mars Society, Houston, TX (Plenum speaker)
Geoscience Dept., Univ. of Houston, Houston, TX
Univ. of Bergen, Bergen, Norway
Bauman Moscow State Technical Univ., Talk at Baker Institute, Rice Univ.
AstroFest, Parkes Radio Telescope, Australia (2X)
The Explorer's Club Cloudcroft, NM
Space Scholars School, UHCLC, Houston, TX
Comments on Everett K Gibson's Presentations:
High Speed Computer Forum, Houston April 5, 2011:
Patti Yamakido, Los Altos, CA
Dr. Everett Gibson's talk on "The Exploration of Mars and the Search for Life" is truly amazing. He kept the audience spellbound as he spoke about the discovery, the scientific validation processes, the politics, and the possibility of life beyond earth. His focus and passion for science is captivating and contagious!
Steve Conway, Research Vice Present, High Performance Computing, IDC Corporation
Your talk was the hit of our conference, plain and simple. That includes the scientific information and the lively anecdotes surrounding it. The next day, people were still talking with excitement about your presentation and admiring the passion and dedication that have driven your career. We would certainly be happy to keep an eye out for other conferences that might want to invite an exciting speaker like you to present.
Presentation to JSC Employees regarding "Lunar Sample Heist-The True Story", May 5, 2011
"This was an excellent presentation. Dr. Gibson was a delight to listen to."
"It was a fantastic talk. I'm glad that someone at NASA wants to get out the facts ahead of the book."
"Excellent speech."
"Loved it! I wish NOVA would pick this up & tell the real story. Way to go Ev."
"Outstanding presentation with great graphics! This presentation needs to be given to every science teacher in the country! Excellent interaction with audience and responses during Q & A were crystal clear."
"Great Presentation! The media needs to hear the NASA side of the story as told by Dr. Gibson"
The Mars Society Convention, Grapevine, TX August 4, 2011
"The best presentation I have ever heard regarding the search for life on Mars. Dr. Gibson described the data, the criticism of the data and he showed the flaws in the criticism directed toward the data. His research team has made a major contribution to the search for biogenic activity-i.e. life on Mars. A wonderful and clear presentation!" Homer Hickham
"One of the best summaries of the search for life on Mars I have ever heard" Paul Davies, Director, Origins Center, Arizona State University.
75th Annual Meeting of the Meteoritical Society, Greenwich, UK,
August 8-12, 2011
Grenville Turner, FRS, Leonard Medallist, Professor Emeritus, Manchester University, UK
"Everett Gibson gave the best presentation of the entire meeting. His talk on the presence of organic matter in the Nakhla meteorite was convincing and the graphics were superb."
Comment from Daniel S. Goldin, Administrator of NASA, May 21, 1998, Presentation at Planetfest, Pasadena, CA
"Your intensity of focus, spirit and commitment to the scientific truth and excellence set a high standard for all of us. You have not yet proven your point beyond a shadow of a doubt yet, but you appear headed in the right direction. I love what you are attempting to do!"