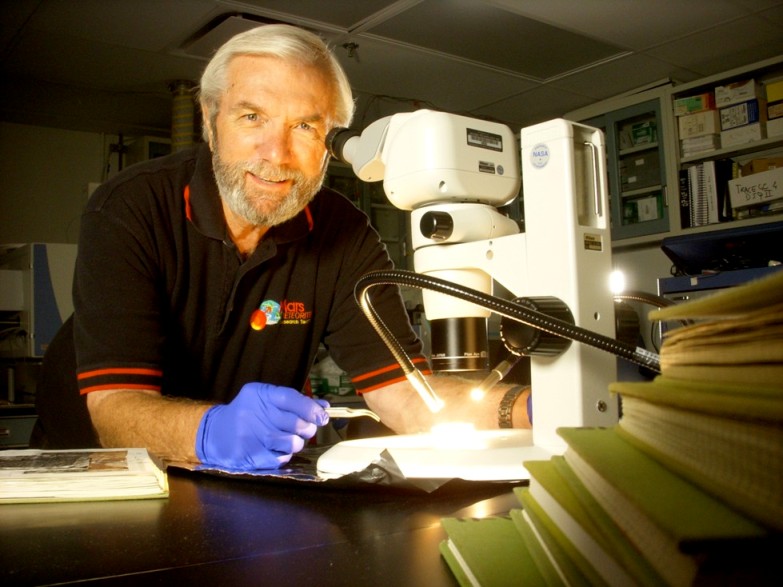 Dr. Everett Gibson – Lecturer, Scientist, Author, Educator and Explorer
Dr. Everett Gibson is an Emeritus Scientist at NASA's Johnson Space Center. He retired in January 2015 after serving as a Senior Scientist – Geochemist – Astrobiologist in the Astromaterials Research and Exploration Sciences Office, NASA's Johnson Space Center.
Everett Gibson is a native Texan. He received his B.S. and M.S. degrees from Texas Tech University, Lubbock, TX. He completed his Ph.D. in Geochemistry with an emphasis on meteoritics from Arizona State University, Tempe, AZ. His first day of employment at NASA's Manned Spacecraft Center, Houston, TX was "Splashdown Day" for Apollo 11 in 1969. He had been with NASA for 45 yrs. and served 20 yrs as a Lunar Sample Principle Investigator studying volatile elements in lunar materials. During an Antarctic meteorite recovery trip, his team recovered a "Rosetta stone-like" meteorite originating on Mars. He was co-leader of the team that discovered possible signatures of past life in the ALH84001 Martian meteorite along with additional evidence in 3 more Martian samples. These discoveries helped establish the Astrobiology discipline and changed NASA and the European Space Agency's Mars Exploration Programs.
He has published more than 200 peer reviewed papers, 550 abstracts. Dr. Gibson was awarded NASA's Exceptional Scientific Achievement Medal in 1997. He has received two Laurel Awards from Aviation Week and Space Technology for outstanding discoveries. Asteroid 14593 (1998 SA26) was named "Everett" in his honor by the International Astronautical Union. He is currently developing the Virtual Microscope project in which every laptop, computer and smartphone becomes a geological microscope to explore the Moon through examination of lunar sample thin sections.
www.virtualmicroscope.org/Collections/Apollo 
Everett is recognized both nationally and internationally as an outstanding science communicator. He appears on PBS, Discovery Channel, National Geographic and History Channels and has been in more than 20 television productions about meteorites, planetary exploration and the search for life on Mars. A recent program was National Geographic's "Million Dollar Moon Rock Heist". He has interviewed with CNN, ABC, CBS, NBC, BBC, NPR, MSNBC, Australian Broadcasting Corporation, Laura Ingraham, and Charles Grodin. He was the 2006 Papadopoulos Fellow for the Kinkaid School in Houston following the 2004 recipient Jane Goodall. He is a flight engineer/loadmaster on the B-17 Flying Fortress Texas Raiders, with 131 missions. For the past 29 years "Hoot" Gibson has been military liaison officer for Wings Over Houston Airshow, the 4th largest airshow in the United States.
Dr. Gibson's presentations appeal to a wide variety of audiences including corporations, service groups, educators and of course the general public.
Topics are always tailored to the audience and no two talks are ever alike. Topics include but are not limited to:
Mars
"The Search for Life On Mars""
"Evidence for Life – A Planetary Detective Story"
Moon
"Lunar Secrets Revealed"
"Experiences in the 'Luny Lab' "
"The Story of the Million Dollar Moon Rock Heist"
Antarctica
"Black Rocks on White Ice"
"The Moon-Mars Connection"
"Earth's Best Martian Analog"
Meteorites
"Poor Man's Space Probe"
"Meteorite Tales"
"Meteorites and Meteor-Wrongs"
Facebook Presentations
The Mars Society – Meeting Dallas
College Station, TX – "Lunar Sample Theft"
For more information or to request a presentation,
contact Dr. Gibson at

[email protected]
Comments on Everett Gibson's Presentations:
High Speed Computer Forum, Houston April 5, 2011:
Patti Yamakido, Los Altos, CA
Dr. Everett Gibson's talk on "The Exploration of Mars and the Search for Life" is truly amazing. He kept the audience spellbound as he spoke about the discovery, the scientific validation processes, the politics, and the possibility of life beyond earth. His focus and passion for science is captivating and contagious!
Steve Conway, Research Vice Present, High Performance Computing, IDC Corporation
Your talk was the hit of our conference, plain and simple. That includes the scientific information and the lively anecdotes surrounding it. The next day, people were still talking with excitement about your presentation and admiring the passion and dedication that have driven your career. We would certainly be happy to keep an eye out for other conferences that might want to invite an exciting speaker like you to present.
Presentation to JSC Employees regarding "Lunar Sample Heist-The True Story", May 5, 2011
"This was an excellent presentation. Dr. Gibson was a delight to listen to."
"It was a fantastic talk. I'm glad that someone at NASA wants to get out the facts ahead of the book."
"Excellent speech."
"Loved it! I wish NOVA would pick this up & tell the real story. Way to go Ev."
"Outstanding presentation with great graphics! This presentation needs to be given to every science teacher in the country! Excellent interaction with audience and responses during Q & A were crystal clear."
"Great Presentation! The media needs to hear the NASA side of the story as told by Dr. Gibson"
The Mars Society Convention, Grapevine, TX August 4, 2011
"The best presentation I have ever heard regarding the search for life on Mars. Dr. Gibson described the data, the criticism of the data and he showed the flaws in the criticism directed toward the data. His research team has made a major contribution to the search for biogenic activity-i.e. life on Mars. A wonderful and clear presentation!" Homer Hickham
"One of the best summaries of the search for life on Mars I have ever heard" Paul Davies, Director, Origins Center, Arizona State University.
75th Annual Meeting of the Meteoritical Society, Greenwich, UK,
August 8-12, 2011
Grenville Turner, FRS, Leonard Medallist, Professor Emeritus, Manchester University, UK
"Everett Gibson gave the best presentation of the entire meeting. His talk on the presence of organic matter in the Nakhla meteorite was convincing and the graphics were superb."
Comment from Daniel S. Goldin, Administrator of NASA, May 21, 1998, Presentation at Planetfest, Pasadena, CA
"Your intensity of focus, spirit and commitment to the scientific truth and excellence set a high standard for all of us. You have not yet proven your point beyond a shadow of a doubt yet, but your appear headed in the right direction. I love what you are attempting to do!"
Everett Gibson's Presentations
Dr. Gibson has presentations at major universities and research institutions around the world.
Everett Gibson's Publications
Everett Gibson has published more than 200 peer reviewed scientific publications.
Everett Gibson's NASA pictures
Everett Gibson has had a distinguished career at NASA see some of his personal photographs here.
Everett Gibson's Aviation Adventures
Everett Gibson has had many Aviation Adventures see his personal photographs here.
Everett Gibson's 1979 Antarctica Adventure
Everett Gibson explored Antarctica see his personal photographs here.
Everett Gibson's Interesting Events
Everett has met many interesting people and attended many interesting events here.
See The Moon In A Different Light
Everett Gibson is currently working on a collaborative project between the Open University (UK) and NASA (Johnson Space Center) to make all Apollo thin sections available to anyone who has access to the internet. Through the interactive website, a computer, tablet or smartphone can become a geologic microscope and allow the user to examine minerals present in lunar samples.
Copyright © 2021 .