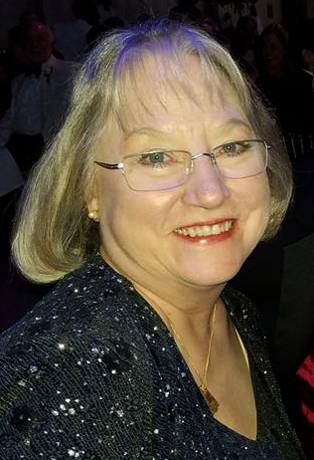 A Celebration of Life Service 
Was held on  Sunday May 15th, 2022
at Lone Star Flight Museum
View pictures HERE.
Morgan Shott Gibson [1951 – 2022]
Mary Morgan Shott was born August 21, 1951 in Bluefield, West Virginia.  She was the second daughter to Edwin "Ned" E. Shott and Doris Bradford Shott.  Both of her parents preceded her in death along with brother Robert Bradford Shott of Carolina Beach, NC and brother-in-law Alfred Forbes of Bluefield, WV.  Morgan lost her five-year battle with cancer on April 6th, 2022  in Houston, TX.  Morgan was survived by her husband Everett K. Gibson, Ph.D. of Houston, TX and her son Bradford Pierce Gibson of Round Rock, TX.  She is survived by her sister Martha Sue "Mopsy" Forbes of Bluefield, WV and brothers Thomas C. (Brownie) Shott of Katy, TX and Daniel C. (Sandy) Shott of Bluefield, WV.
Morgan was an accomplished equestrian competing in the pleasure pony, three-gaited and five-gaited classes.  With her ponies, "Missy", and "Willie", she competed at the highest levels of State and Regional Competitions. "Willie" was forced into early retirement because of his consistent winning record.   Morgan was educated in Bluefield, West Virginia and graduated from Stephens College, Missouri in 1971 with Associates Degree in Newspaper, Radio and Television Production.  She completed her undergraduate degree in biology from Virginia Tech, Blacksburg, VA in 1973.  She worked at the NASA Manned Spaceflight Center in 1971 as an undergraduate research fellow for Dr. Paul Gast, where she met the love of her life, Everett K. Gibson, Ph.D.  After a two-year courtship between Texas and Virginia, Morgan and Everett were married in Bluefield, WV on October 13, 1973.  They honeymooned in Hawaii while exploring active volcanoes on the Big Island of Hawaii.
Morgan was an eye-witness to the launches of humans from the earth into space and to the moon.  She witnessed the launch of Apollo 8, 10, 16 and 17 at Cape Kennedy.  She was in the presence of Charles Lindbergh for man's first launch to the moon, Apollo 8.  She witnessed the launch and landing of the Space Shuttle.  She commented that the night landing of the Space Shuttle had to be similar to the return of an alien spacecraft to earth.
The couple's son, Bradford Pierce Gibson, was born March 1978 in Houston, TX. While raising their son, Morgan worked as a research biologist at NASA studying bone-loss in astronauts.  She also worked on the unique carnivorous screw-worm fly irradiation project.  She served as the Technical Editor for the Lunar and Planetary Institute.  She was lead Technical Editor for the outstanding "Impact and Terrestrial Cratering" reference book.  This large book was one of the last books produced prior to computer assemblage of technical books.   The technical editing for the 7th and 8th Lunar and Planetary Science Proceedings and the Moon Mercury Comparison Conference were conducted with her guidance.
For 17 years Morgan volunteered as an Emergency Medical Technician (EMT) with the Clear Lake City Emergency Medical Corps.  Unit 530 was her ambulance.   In the mid-90's Morgan had a mid-life career change.  She applied for entrance into The University of Texas, Galveston Applied Health Sciences program and obtained her Occupational Therapy Certification.  She practiced "OT" in various positions in the Houston area and enjoyed school-based occupational therapy.  She became certified in "Handwriting Without Tears".
Morgan and her family enjoyed traveling and visiting exotic locations around the world.  She and Everett visited every continent but some of their more enjoyable moments occurred in the Outback of Australia.  Her family pride was displayed by her showing the 1962 Volkswagen bus which they restored over a decade.   The VW bus won "Best of Class" at the Keels and Wheels show in Seabrook, TX in 2021.  Morgan was a talented aviator.  She completed her pilot's license and is one of the few women to fly a B-17 "flying fortress bomber" across the state of New Mexico.  Morgan's father, Capt. Ned Shott, was awarded the Distinguished Flying Cross in World War 2 for his bravery in missions in B-17s.  Her father was proud that Morgan had flown the B-17 heavy bomber.  During the numerous extended maintenance periods for the Commemorative Air Force's Texas Raiders, Morgan worked at such tasks as paint stripping, caulking leaking seals for windows, artwork for the aircraft, and numerous other tasks.  She was awarded the "Permanent Latrine Orderly" title by the Gulf Coast Wing membership for her high level of cleanliness for the latrines in the headquarters building.   She assisted her husband with inviting and hosting the military aircraft that visited the annual Wings Over Houston Airshow.
Morgan was an exception needlework artisan.  Examples of her work can be seen displayed at Sulgrave Manor ancestral home of George Washington's family in Central England.  Her needlework of the American turkey is displayed on the curtains surrounding the family bed in Sulgrave Manor.  Morgan was an outstanding painter of Santa Clauses.  Her hand-painted Santa Clauses can be found in friend's homes throughout the U.S. and world.
A Celebration of Life event for Morgan will be scheduled for the future.  Cremation will occur under the directorship of Crowder Funeral Home, Webster, TX.  Final resting place of her ashes will occur in the Family Cemetery plot in Gordon, TX.  In lieu of flowers, the family requests donations to the American Cancer Society.